Goals

Short and Long-Term Goals
The Zone being a lifestyle requires not only short-term goals, but long-term goals in order to succeed. To those just starting, the Zone can be viewed as a new beginning.
Losing weight is probably the number one short-term goal for commencing the Zone lifestyle. Maybe a special occasion is fast approaching ie a wedding, an important birthday, or a 10 or 25th year high school graduation. We want to fit into that slinky black dress or slim black suit and look and feel our best. We make the effort to start thinking hormonally and we hope the excess body fat and inches will slowly disappear so that we can be very proud of our accomplishments.
However, how many times have you made a New Year's resolution as the start of a new beginning only to end up short of your goal because of a negative, self-defeating attitude? Some negative thoughts are "the Zone is too hard to learn", "I just cannot give up pasta", "I don't like to exercise", "I have a sweet tooth" etc.
Conversely, if we accomplish our short-term goal, reality hits!! We realize that this new lifestyle is work and that if we wish to maintain our new weight that we will have to follow the lifestyle for the rest of our lives. Here is where our long-term goals must come into play.
In order to stick with the Zone one must start thinking positively regarding the anti-aging proponents that the Zone can and does offer. Remember Rome was not built in a day, so lifestyle changes must be made slowly, one step at a time. Here are some of the long-term results that one can look forward to in the Zone:
slower aging
state of wellness
stable emotions
excellent mental clarity
good strength and stamina
improved sex life
less vulnerability to diseases
By thinking positively and long-term, our new image of what we are trying to create becomes a self-fulfilling prophecy. We truly are "what we eat".

If as a being we bring all four areas of our life into balance ie mental, spiritual, emotional and physical using food as a drug, we can then accomplish both our short and long-term goals in the Zone which in turn will provide a healthy foundation in all aspect of our lives.

As we journey this road called life, we realize that we are the primary and ultimate causes of our own sorrow and failure. Paradoxically, this also means that we can be the cause of our own happiness and success.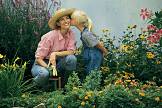 The Zone is an excellent lifestyle to help one accomplish this by looking and feeling our best. Remember "Our minds are like a garden. In a garden weeds continually grow. When we remove the weeds and continue to plant flowers our lives change".


continue to next section ..
How to Survive Holiday Eating